This pattern was inspired by a folk arty magazine cover.
It has become popular with our feline loving customers.
:: MATERIALS · PATTERN · NOTES ::
:: Back to Patterns ::
MATERIALS & SUPPLIES
TOOLS -- carving knife, pencil, saw, toothbrush
SUPPLIES --pinback (1-1/2 inch), glue, sandpaper
WOOD -- 3" x 3" x 1/4" basswood strip
FINISH
Paints: favorite feline flavors, optional: antique gel
Brush: #1, 00, flat or round
Sealers: fast-dry lacquer, acrylic sealer
PATTERN
.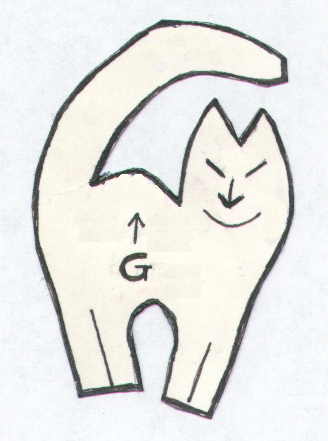 2-1/2" x 2-3/4"
Click to Enlarge Pattern
PROJECT NOTES
Transfer the pattern to the wood. Cut out the blank.
Using paring cuts, remove the saw marks on the edge of the blank.
Round the edges of the blank. Beware the changes in grain dynamics. If the knife cuts "chunks", reverse the direction of the cut.
Sketch a line to divide the back legs. Use two shallow V-cuts along this line to define the back legs.
Repeat for the front legs.
Smooth and round-up as desired. Brush the carving with the toothbrush to remove loose chips.
Clean-up the fuzzies. Sand as needed.
Damp brush the carving, using a toothbrush and soapy water. Pat dry and leave to dry.
Spray with quick-dry lacquer to seal the wood and let dry.
Paint in your favorite feline colors. Let dry.
Spray with acrylic sealer and let dry.
Apply antiquing gel if desire. Re-seal and let dry.
Glue pinback and let dry.
Sign and date the project. It is done !!